Map subtle changes in geology and lithology
Map thin gravels, clay layers or discrete targets
Map to greater than 250m (far greater than fixed wing time domain electromagnetics "FTEM")
Extreme early time gates, especially with system response to map top few metres in high resolution
The use of SkyTEM airborne TDEM to provide solutions for geotechnical engineering problems is an evolutionary application of our technology stemming from the low noise, high-bandwidth data we gather.
This allows for extremely near surface mapping in detail couple with obtaining information at depth to build comprehensive integrated models of the sub-surface structure, groundwater and geology.
The SkyTEM method delivers accurate, high resolution, precisely positioned measurements giving scientists and engineers a better understanding of geology, hydrology, and natural and manmade hazards.
SkyTEM projects include pre-construction engineering for pipelines, tunnels, harbours, mine site infrastructure, slope stability studies, overburden thickness determination, identification of fractures and faults and location of aggregate deposits and water resources. For a few examples of our experience please click here.
SkyTEM is of high value to engineers as it provides a multi-sensor platform that collects various types of data concurrently, including:
from near surface to depth and configurable for various geological settings, targets, depths and data requirements;
for mapping magnetic anomalies, fractures & faulting and man-made buried metallic objects;
measurement of radio-elements to determine soil types, geological distribution of rock-types and direct detection of radioactive materials or pollution;
for accuracy in processing and delivery of digital elevation model;
for a record and review of ground features;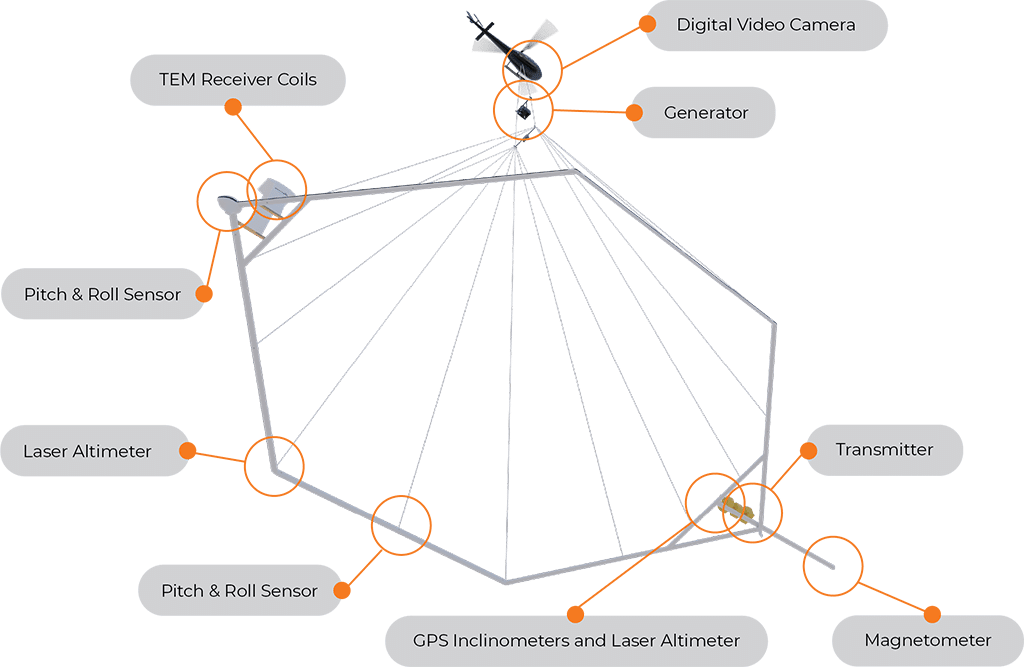 Unique Design for Near Surface
The SkyTEM system was purpose built for near surface applications and in the early days that related mainly to groundwater however the systems unique capabilities of operating with dual moments provides ultra high resolution near surface providing excellent data for many geotechnical programs.
As the only system capable of operating in dual transmitter modes SkyTEM delivers accurate near surface data together with data specifically configured to resolve the small differences in conductivity while maintaining a moderate depth of penetration to image underlying structure and geology, giving a complete picture.
The system discriminates between weak geological contrasts giving a more complete and accurate interpretation of geology while increasing confidence in modeling deeper geological structure.
Fast turn-off time and early time data for resolving near surface layers as well as more resistive layers;
Elimination of signal drift and a one-time calibration procedure so data manipulation is greatly reduced and inversions can be delivered within 2 days of acquisition;
Extremely high signal to noise ratio and late time gates for enhanced data quality at depth;
All sensors mounted on the rigid carrier frame ensuring all measurements are recorded close to the ground;
No operator required in the helicopter reducing weight, fuel consumption and risk;
No STC is required for quick installation in a variety of helicopters.
Technical Resources & System Fact Sheets
Superior High Near-surface Exploration
Water, Mineral Exploration & Geotechnical
Download
Near-surface & Deep Exploration
Water & Mineral Exploration
Download
Enquire about how we can assist you today
"*" indicates required fields