Software Developer (HQ – Denmark)
We seek a talented developer to help us create excellent software for our next-generation helicopter-based geophysics system and in our mission to launch the first drone-based platform.
The Company
SkyTEM was founded to help secure drinking-water resources in Denmark by creating detailed subsurface maps. Today the technology is used worldwide for the same purpose as well as to localize minerals and plan infrastructure projects. In R&D we are a small group of 14 people responsible for developing, testing, and manufacturing the entire system from carbon fiber frame through to analog and digital electronics and the software that controls it. That means you will be able to participate in the entire process from idea generation to testing in the field. We also expect you to collaborate across disciplines.
Your Contribution
Your most valued asset will be experience in writing great software that can stand the test of time. Most of the work will involve Python and Linux, but experience with the following technologies could also be useful: JavaScript, C++, FPGA, Yocto, RTOS, Docker, and analog/digital electronics.
Depending on your skill set you will participate in:
Integrating new sensor solutions from low-level hardware interfaces to high-level interaction with the rest of the system
Web-based user interface Development
Linux driver development to interface with our FPGA backbone
Overall system architecture and interface design
Establishing an automated testbench and continuous integration workflows
Designing analog and Digital Electronics
We have a backlog filled with valuable projects, so the ideal candidate excels at moving projects forward to the finish line to deliver value.
We currently focus on improving our workflow. In recent years we have created recipe-based deployments and development environments. Soon, we will work on remote deployment, continuous integration, and automated testing. The experience here will be highly valued.
What we seek in this hire is to be able to move faster and add experience where we need it the most. Your work will take the outset in accelerating our current projects, but as a small team, we constantly adapt roles and skills to needs and interests. We are also responsible for setting the direction of the development, which greatly influences the work.
The Team
We believe that a significant component in performance is a natural interest in the projects and technologies and a supportive environment where work feels like play. We believe that the best results are achieved in strong collaboration where all stakeholders take part in the decisions.
In the team, we value people who
believe that team performance is more important than the individual, but are capable of driving their own projects
like to receive and give honest feedback
have a natural curiosity and desire to learn and develop
take pride in the work and seek to constantly improve
openly share mistakes and see them as a part of making a difference
The Future
If the above resonates with you, we would love to hear from you. Applications can be sent to . For more information please contact the head of R&D Kristoffer Skovgaard Mohr at +45 25108262.
Relevant candidates will be interviewed as applications are received and the position is open immediately.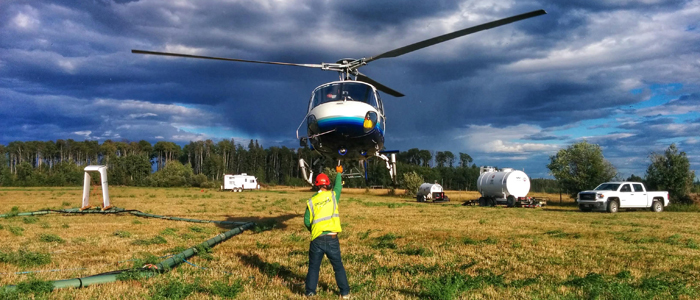 Field Manager / Technician (the Americas and Australia)
SkyTEM is seeking an eager and able-to-travel field worker to operate proprietary airborne geophysical survey equipment used to map subsurface features from a helicopter platform in a variety of working conditions.
Typical survey work is in-field and project based. SkyTEM is a global company and travel abroad is required as our projects are located all over the world. SkyTEM has worked on all seven continents, so the work conditions in the field vary.
Crew rotations are typically 4-5 weeks in-field, 3 weeks off time, and fluctuate dependent on project dates and operating conditions. The workload over a full year corresponds to a standard full-time employment.
There is no specific educational background requirement, however we are seeking candidates with excellent mechanical and electrical competency and technical computer prowess. The employee will undergo internal and in-field training to acquire the specific technical skills for the position, which include the ability to:
Undertake logistical reconnaissance – select appropriate base of operations and helicopter landing zones in the field
Plan and communicate instructions and directions to the helicopter pilot regarding survey parameters
Assemble SkyTEM proprietary equipment and sensors, operate instruments competently as per training and standard operating procedures
Perform various quality control and troubleshooting tests, accurately record results prior to data collection
Master the operation of the SkyTEM system and troubleshoot faults according to instruction, experience or in direct contact with a remote technician
Perform field data quality control of collected airborne data using proprietary software
Understand, adhere to and implement SkyTEM's Health, Safety and Environment system
Have strong IT capabilities at a level above an ordinary PC user
Personal qualifications
As a minimum the employee must master English in writing and speaking at an average level – other languages such as French, Spanish or Portuguese will be an advantage
Be well-organized and service-oriented
Have interpersonal skills and a constructive and proactive approach to troubleshooting
Be able to work under challenging weather and living conditions sometimes in isolated areas
Be physically fit and be able to pass a pre-employment medical
Have a valid driver's license
Have valid Covid-19 proof of vaccination
Have a valid passport, and be willing and able to travel
Tasks
Conduct yourself in a manner which enhances the reputation of SkyTEM and yourself
Conduct and manage surveys in the field according to procedures and schedule
Update job specific HSE plans, risk assessments and other security-related procedures
Daily reporting to Project Manager regarding progress and data quality
Coordinate and cooperate with external partners, including helicopter pilot, local authorities, landowners and client representatives
Participate in debriefing, safety and other meetings at the headquarters
Please apply to if interested.  We thank all applicants for their interest however only those candidates selected for interviews will be contacted.
According to the Global Data Protection Regulations SkyTEM:
deletes all unsolicited applications immediately upon reply
deletes all solicited applications no longer than three months after application deadline
Click here to add your own text