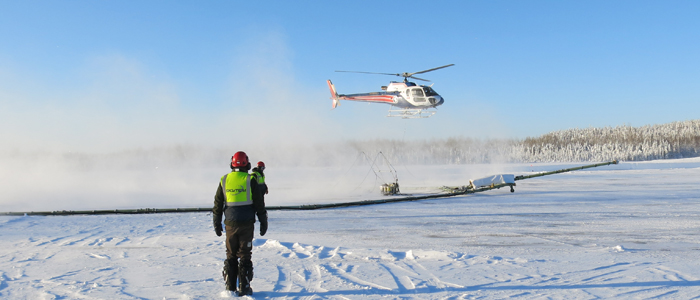 The on-going development of SkyTEM MultiMoment® TEM systems has been driven by specific exploration objectives. First, to increase the power and depth of penetration. Second, to reduce the noise level and enhance detection of subtle contrast at depth. The result of a 5 year development program, SkyTEM516 has recently demonstrated its accomplishment of these objectives over the Caber Deposit in Québec, Canada. SkyTEM516, with a transmitter area of 536 m2 and 16 turns, is capable of delivering a dipole moment of more than 1,000,000 NIA. In addition, a unique receiver design has been engineered to reduce the noise level by a factor of 20.
The Caber North deposit is particularly suitable for testing a helicopter-borne EM system's signal-to-noise as it is a challenging target and one that conventional ground EM systems have difficulty detecting. The deposit (1.3 Mt @ 4.0% Zn, 1.7% Cu) is buried under more than 300 meters of conductive overburden. SkyTEM516 and SkyTEM512 (launched in 2014) are both proven to successfully detect the Caber North deposit. Detection of this target is difficult because its response ranges from 2 to 10 fV/Am4 where 1 fV=10-15 V. Hence, detection of Caber North and similar targets requires a dipole moment in the range of 1,000,000 NIA and, above all, an exceedingly low noise level.
The SkyTEM516 has an un-normalized target responses range between 2-10 nV/m2. Therefore, in order to detect this target the noise level must be markedly lower than 0.5 nV/m2. Few airborne EM systems are capable of achieving this since systems with a high dipole moment typically have a corresponding high noise level due to limitations of the receiver system. As a result, many systems are incapable of detecting the Caber North Deposit due to an inferior signal-to-noise ratio.
All SkyTEM MultiMoment® systems are capable of mapping the near surface concurrently with depth. A range of systems is available to provide solutions for varying exploration objectives.
Download the brochure with test results here: SkyTEM516 over Caber Deposits.
 If you would like to see the entire test results, please send an email to CEO Flemming Effersø, , with your name, organization and email address. We will respond to you within 1 or 2 working days. You will be asked to sign a confidentiality agreement before you receive link and password to an FTP site.
https://skytem.com/wp-content/uploads/skytem_logo.jpg
0
0
Kirsten Ulsig
https://skytem.com/wp-content/uploads/skytem_logo.jpg
Kirsten Ulsig
2015-02-12 13:36:38
2015-03-27 10:10:15
SkyTEM516 over Caber Deposits