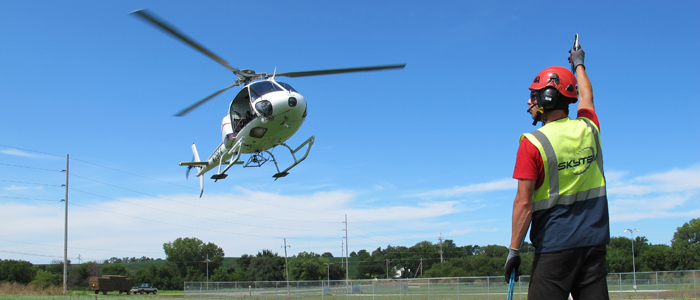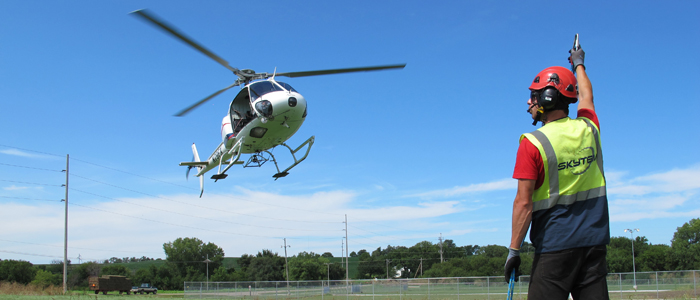 The SkyTEM304 airborne geophysical system will soon be mapping groundwater resources in Arizona.  The Bureau of Reclamation (BOR), Yuma, Arizona, manages groundwater commitments to critical water districts that use the Colorado River, Gila River, and Yuma area groundwater resources for irrigation and other agricultural activities. The Yuma Area is one of the most heavily-farmed areas in the United States and agriculture here accounts for an annual gross economic return of $3.2 billion. Crops are grown year-round and miles of water delivery infrastructure ensures the agricultural industry is successful. In order to better meet Arizona's water commitments today and sustainably in the future the BOR is using the SkyTEM airborne geophysical method to characterization groundwater resources in the greater Yuma area.
Data from SkyTEM systems are used as input by scientific organizations and governments worldwide to help them better understand and manage groundwater resources. The team assembled for this project consists of Southern Helicopters, XRIBlue, AlliedGIS and SkyTEM.  XRIBlue, a water exploration and production company has teamed with Allied GIS to process and deliver data that includes detailed geological cross sections and 3D imagery from the very near surface to depths over 350 m. Southern Helicopters, with several years of experience flying SkyTEM systems, will provide the helicopter and pilot. Data acquisition is expected to take place throughout September.
Read the Bureau of Reclamation's press release below:
Media Contact: Doug Hendrix (702) 293-8391
For Immediate Release:  August                                                
Bureau of Reclamation begins low-level helicopter research flights over Yuma area
YUMA, Ariz. — Reclamation's Yuma Area Office (YAO), in accordance with Federal Aviation Administration regulations, is announcing an upcoming research project involving low-level helicopter flights in the Yuma area. The helicopter will be towing a large hexagonal frame over the Yuma agricultural production areas and the Colorado River over the next few weeks to survey and capture groundwater imagery. The flights will begin the last week of August and continue for up to 3 weeks.
On August 8, 2016 YAO entered into a contract with SkyTEM to collect real-time airborne electromagnetic geophysical survey flow imagery to determine the amount, location, quality and breadth of groundwater existing in underground channels and aquifers in the area. The instrumentation mounted below the helicopter gathers geologic measurements to learn more about water quality and the extent of aquifers existing below the sub-surface layer.
As part of the research effort, the contract helicopter will fly repetitive survey and grid runs over the Yuma Mesa, Yuma Irrigation District, Gila River, Wellton Mohawk, and along the southerly border with Mexico.
As part of its primary mission, YAO monitors and manages the depth and concentration of groundwater levels in the Yuma area for the use and benefit of water districts who depend on these supplies from the Colorado and Gila Rivers for irrigation, municipal use, or other related purposes. To better meet current and future water use needs in the area, YAO is undertaking a groundwater resource characterization study throughout the greater Yuma vicinity.
In conducting the detailed research, technicians will affix electromagnetic based survey equipment to a hexagon-shaped support apparatus that is towed about 100 feet below the helicopter in a 'spider web' array that is designed to map geologic features beneath the earth. The helicopter will be staffed by experienced pilots specially trained for low-level flights using this type of equipment.
Data gathered from the research flights will help YAO better understand and manage groundwater resources, and will include detailed geological cross sections and 3D imagery from the very near surface to depths over 350 meters. Data acquisition is expected to take place throughout September.
Link to press release here.
Also read the article in The Desert Indpendent: Low-Level Helicopter Research Flights Begin Over Yuma Area
https://skytem.com/wp-content/uploads/skytem_logo.jpg
0
0
Admin2
https://skytem.com/wp-content/uploads/skytem_logo.jpg
Admin2
2016-08-25 09:31:07
2016-08-26 07:22:21
304 to Yuma. SkyTEM technology maps groundwater in Arizona