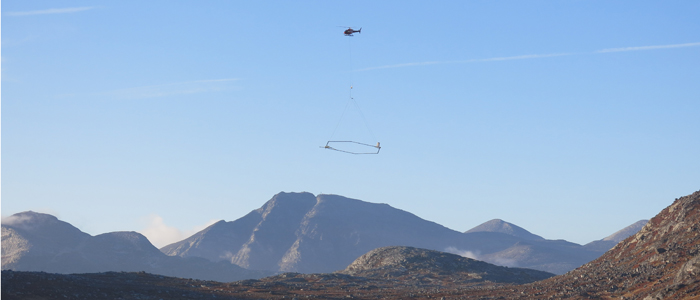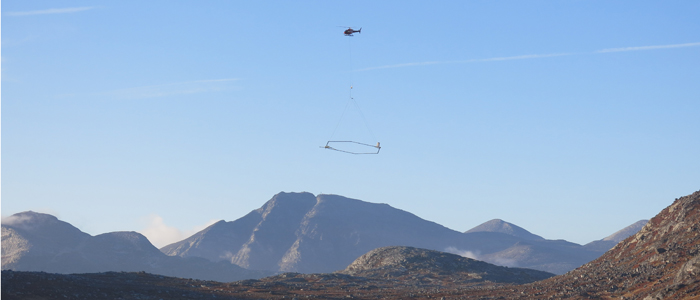 Alba Mineral Resources has published an RNS on the results of the SkyTEM electromagnetic-magnetic (EM-MAG) geophysical survey conducted in September 2016 on the Amitsoq graphite project in Greenland. The initial interpreted results are highly encouraging and provide numerous target areas for follow-up ground work, geophysics and drilling. These targets include graphite zones and extensions of the former graphite minat Amitsoq, nickel and platinum group metals (PGM) to the north of the former mine, as well as potential gold targets on the mainland to the south of Amitsoq island.
The highlights include the identification of several new faults and numerous anomalies, some associated with potential graphite horizons, as well as two shallow, moderate intensity EM anomalies associated with large ultramafic dyke known to contain magmatic sulphides of nickel, PGMs, gold and silver.
The SkyTEM304 system was selected as it affords greater depth penetration (up to 400 m) when compared to rival systems.
The next phase of exploration will involve further processing of the geophysical data followed by ground verification of targets and the planning of a drilling programme for later this year.
George Frangeskides, Executive Chairman of Alba Mineral Resources, commented:
The initial results from the airborne geophysical survey are very promising. We expected to find anomalies in the vicinity of the historic Amitsoq graphite mine, and this has been confirmed by the survey. What is most exciting is the discovery of numerous linear anomalies running in a general north-easterly direction away from the mine area. These are suggestive of the presence of a highly conductive unit that cancontinue laterally for up to 1300 metres at a time. The identification in particular of 11 conductor axes amounting in aggregate to 5.5 kilometres of strike provides us with significant priority targets for follow up on work.
Read the entire RNS here and the article in Directors Talk Interviews.
https://skytem.com/wp-content/uploads/skytem_logo.jpg
0
0
Admin2
https://skytem.com/wp-content/uploads/skytem_logo.jpg
Admin2
2017-01-30 11:46:20
2019-05-13 10:26:15
SkyTEM survey identifies minerals in Greenland for Alba Mineral Resources