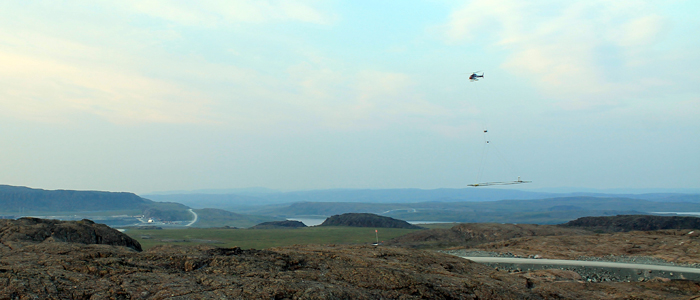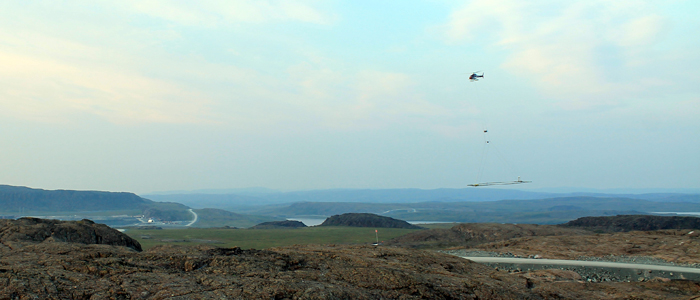 SkyTEM Canada Inc is pleased to announce completion of Geoscience BC's Peace Project in northeast B.C.
The Peace Project, designed to provide sound technical knowledge of the region's aquifers, is a collaborative effort involving the BC Oil and Gas Commission, the BC Oil and Gas Research and Innovation Society, ConocoPhillips Canada, the Ministry of Environment, the Ministry of Forests, Lands and Natural Resource Operations, the Ministry of Natural Gas Development, Northern Development Initiative Trust and Progress Energy Canada Ltd.,  with additional support from the Peace River Regional District.
All data acquisition, comprising approximately 21,000 line kilometres and covering 8,000 square kilometres was completed in only 43 days.  This exceptional production rate was achieved with SkyTEM's breakthrough technology – SkyTEM312FAST, the world's fastest helicopter-borne geophysical system.
Engineered with a rigid aerodynamic carrier frame SkyTEM312FAST remains straight and level during high-speed flight benefiting data quality as well as survey efficiency and economy. Dr. Flemming Effersoe, SkyTEM's CEO, stated "it means a great deal to me to have SkyTEM selected for this important project and we are proud of what we accomplished in British Columbia in such a short time. Our team delivered accurate high resolution data every 48-72 hours throughout the project. Combined with our ability to detect subtle geological contrasts in the top 400 m, at 150 kilometres per hour, this technology is of significant value to the global mineral and oil & gas exploration communities as well."
Contributing to the unprecedented SkyTEM data acquisition rate and quick completion of the project was the communications expertise of Mr. Reg Whiten, President of InterraPlan Inc., who worked closely with local First Nations, the SkyTEM field crew, Devbrio Géophysique Inc, who adjusted day to day flight plans to accommodate First Nations cultural events and hunting season requirements and the logistics support and skills of pilots from Bailey Helicopters Ltd.
Mr. Carlos Salas, Vice President, Energy at Geoscience BC said "the Peace Project has collected valuable information. Without the cooperation of everyone, especially the local community, the results would have been much different."
Information from the Peace Project will serve as a key component of the Northeast Water Strategy by providing knowledge to enable the Strategy's Enhanced Water Monitoring System. The Northeast Water Strategy is currently under development by the Provincial government with cooperation from Treaty 8 First Nations, local governments, regulatory bodies, and the resource sector.
SkyTEM appreciates the opportunity to map the earth's critical resources and are proud to have played a role in this vital project.
https://skytem.com/wp-content/uploads/skytem_logo.jpg
0
0
Kirsten Ulsig
https://skytem.com/wp-content/uploads/skytem_logo.jpg
Kirsten Ulsig
2015-09-11 13:27:44
2015-09-11 13:27:44
SkyTEM quickly completes Geoscience BC Peace Project with SkyTEM312FAST