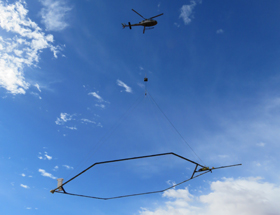 The survey will be flown with SkyTEM's innovative new generation 312 HP (High Power) technology for deep exploration. This High Power system, with a peak moment up to 1,000,000 NIA, is optimized to provide an exceptional depth of investigation due to the high moment (HM) mode with high current and low base frequency of 12.5 Hz. This system has only been on the market since 2017 and therefore, represents a major advance in AEM systems.
Michael Foster, Chief Executive Officer of Kavango, commented:
"We are pleased to be able to announce the start of Phase 2 of the AEM Survey. SkyTEM's new High Power system will allow us to investigate the potential for Cu-Ni-PGE rich sulphide orebodies at much deeper levels and with greater resolution than older systems".
Watch the video on YouTube and read the news release published by Kavango Resources here.
https://skytem.com/wp-content/uploads/skytem_logo.jpg
0
0
Admin2
https://skytem.com/wp-content/uploads/skytem_logo.jpg
Admin2
2019-01-23 13:24:14
2019-05-13 10:39:59
A SkyTEM312 HP survey to begin for Kavango Resources in Botswana